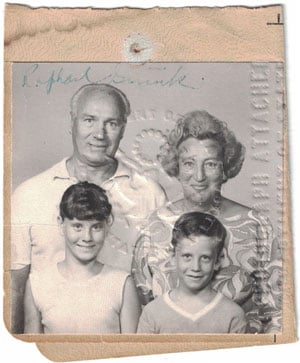 About Raphael & Lila Sinuk
Ray (Raphael) Sinuk was born in Poland and arrived in the United States, with his parents and two brothers, settling in the Bronx. Ray loved basketball and played for his high school. After graduating, he joined the US Army during World War Two. Following his service, though he wanted to be a policeman his mother was afraid, she felt he had paid his due to his country. Instead, he began working at the resorts in the Poconos, while studying to become a masseur. He left New York for Miami Beach and worked as a masseur at many of the posh hotels on Collins Avenue. Ray was funny and outgoing. He always had a positive attitude on life, and was known for his catchphrase, just "Keep 'em Smiling".
Lila Goldbaum's family escaped Germany, and she was raised in Zurich, Switzerland. She was a gymnast, she loved to swim and played tennis. Since her brother lived in California she decided to emigrate to the United States. She eventually moved to Miami, where she met Ray. He taught her Swedish massage, they ended up working together eventually they married and raised their beautiful family together. Among her many achievements, she played cards and became a Master bridge player. She spoke several languages and was an interpreter for the Miss Universe pageant.
Ray and Lila were passionate about their Judaism and sent their son Jack and daughter Janet to the Hebrew Academy in Miami. It was there that they learned and absorbed the foundations of Judaism that has carried them to this day.
Today, Jack dedicates the new Torah in loving memory of his parents Raphael and Lila.